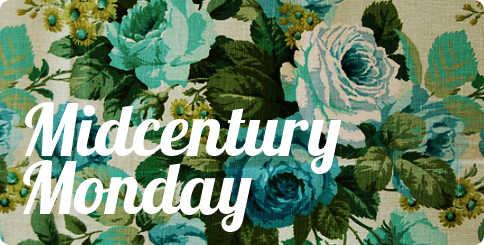 This week's edition of Midcentury Monday brings you some
pieces I've favorited on Etsy
I'm just going to get right into it!
These gorgeous slipper chairs can be found
here
in
Fabulous Mess
. I adore the button tufting and the interesting cut-outs in the back of the chair. For the tidy sum of $1995 these chairs would be a vision in a cool modern sitting room.
If there was any piece I would buy without hesitation (or regard to price) at this very moment, it would definitely be this
headboard by George Nakashima
. Made of black walnut and laurel wood, the smooth lines of this beauty have just the right atomic appeal for my tastes. $4500 at
Fabulous Mess
on Etsy.
This
record storage cabinet
is pure sweetness! Found in
Vintage Avocado
on Etsy, it has sadly (for us at least!) already sold. Maybe someday I'll be lucky enough to find another piece like it to fill with my
Wanda Jackson
albums...
Here
is a very adorable boomerang style coffee table over at the
BeeJayKay
shop. With it's paint palette shape it would be the perfect addition to the lounging-end of my art studio! A steal, in my opinion, at $105.
Rounding out this week's Midcentury Monday is a fabulous
starburst clock
found over at
Retro Classics
. I think these starburst/sunburst clocks are almost a requirement for any room dedicated to Midcentury Modern style. This one especially appealed to me because of its slim spokes creating the starburst design, as opposed to some chunkier decorations I've seen. $69.99 and ready for you to adopt!