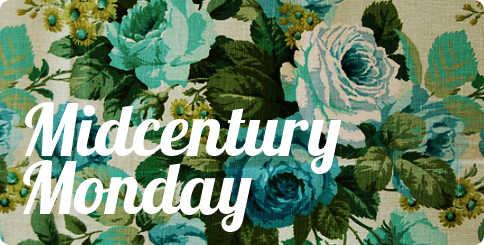 Anxiety can rear it's ugly head in the strangest of places. For me, some combination of trying to nail down a regular content schedule for this new blog, filling my etsy store, promoting my etsy store, and creating new work worthy of my etsy store caused me to seize up most inconveniently. This included completely ignoring my blog, my google reader and blog subscriptions, my etsy shop, and ebay of all things. But I'm back, after a swift kick to the face, and without further ado....
Midcentury Monday Picks for the Week of May 9th
This morning I discovered the AMAZING and DROOL WORTHY antique extravaganza that is
1stdibs
. While none of these pieces are in anyway attainable on my budget, I hope they get your mouth watering as they have mine.
I am loving the curvacious lines of these matching armchairs. Though I am not crazy about the color red at the moment, these are just the sort of thing I would want on hand for having a read next to the fireplace. $4720
Now here is a love seat after my own heart. What 1960s genius created this piece not only upholstered in my two favorite colors, but also my preferred design flavor? Quite a loud statement to be sure, the slender teak legs are irresistible and scream sophistication. Right?! Groovy $6000.
DISCLAIMER: This desk is for ballers only. That's right.
Ballers
. This is a rosewood and mahogany desk with a floating glass top by GALLERIA MOBILI D'ARTE CANTU. It is so ballin that the website doesn't even list a price. PRICELESS.
Here's a beautiful and unique midcentury dresser by Paul Laszlo. The sculptural handles and contrasting finish really made this piece stand out for me. $3750
Here is the real coup de grace. I know this set doesn't reeeally fit into the regular theme we've got going here, but it's from the 1950's, and hey- that's mid-century! Plus, I am on a heavy south western kick right now so I just couldn't help myself. This seven piece set is worked in finished oak, leatherette, and stitched upholstery. The epitome of midcentury ranch house style living! $3500, which is a STEAL if you ask me...