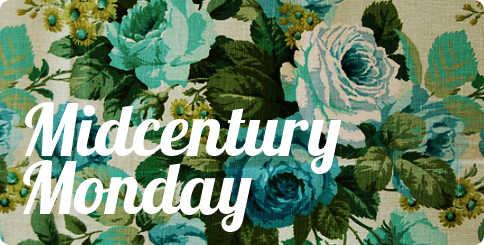 Greetings on this rainy San Francisco morning :) I've been a busy girl all weekend in preparation for opening my etsy shop, but around 5pm California time (aka when I get home from work) all systems will be a go!
In the meantime, here are some tasty Craigslist finds for this week's Midcentury Monday.
Check out this cute little yellow number! I'm a sucker for harvest gold, tapered legs, and button tufting so this bench is a true representation of some of my favorite things about midcentury modern design. Not a budget breaker at $140.
While we're on the subject of things that are yellow, how about this 1957 yellow brocade sofa? Not that I would suggest pairing the vinyl bench with this curvy beauty - I know when to restrain myself! Drop $1500 in the bucket for this piece of classy decor.
Apparently I'm feeling colorful this morning, judging by the avocado basket chair above, for sale in Studio City (Los Angeles) for a cool $250. Really, I wouldn't mind taking home the entire corner set up in these photos!
Another retro-styled idea is this little credenza/media center. I love the globe in the middle cubby and would definitely have to copy the idea if this piece wound up in my home. A couple of the other shelves would be a great space for some of my vinyl records as well! Well worth $125 in my opinion.
Rounding up the post is this little side table with beautiful details, marked Made in Denmark. In addition to the woven wicker shelf underneath the table top, the contrasting wood inlay really adds a unique quality to what may have otherwise been an unremarkable (though midcentury!) piece. $190.
I think this week I'm going to start taking pictures of the few pieces of midcentury goodness lurking around my house. Do you obsess over/collect any particular style or design in furniture? Let me see!