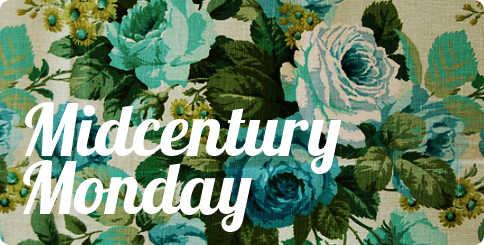 Today's MCM is dedicated to a personal fascination with mine, the TV Lamp!
Post-war Americans in the 1950's found themselves with time and spending money they had never had before, and an explosion of creativity swept the nation influencing not only art and pop culture but household goods and appliances as well. While mid-century modern design explored shape and innovation in furniture design, utilitarian products got treated as well! What fan of midcentury can deny the appeal of a cool aqua food processor or sage green refrigerator? I think you would be hard-pressed to find a one.
The family television set was more than an electric box 'o' entertainment. The "TV" was the centerpiece of the modern 50s home and more often than not was crafted into a beautiful piece of furniture - no entertainment center required! As life-altering as the introduction of television into the home was, much concern was given to the possibility of eye damage due to eye strain in low-light conditions. Thus, the TV lamp was born!
Soon TV lamps reigned over their sets like a hood ornament on a car. Usually ceramic, the lamps took the form of almost anything imaginable: animals, people, plants, and even vehicles like trains and ships. Lamps could even incorporate clock faces or planters.
Though the heightened popularity of the TV lamp lasted a mere 10 years or so, their kitschy designs and soft back-lit glow continue to attract collectors (like me!) today.
Can you spot the TV lamps in these pictures? (click the photo for source)
You can pick up a TV lamp of your own at flea markets, antique shops, ebay, and etsy. Although they are not always in working condition (often the piece of ceramic that held the bulb in place brakes off) they still retain their charm.
Here are some of my favorites:
^This last lamp of two siamese cats is made by Lane and I actually own it!^
Have a great week :)