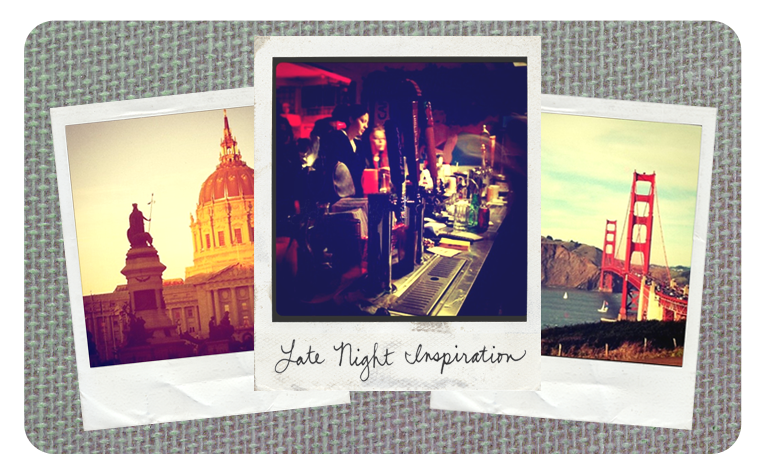 I was in bed and half asleep when I happened to glace upon my blog. This glance led my thoughts to drift over to my old blog,
grateful molly
, which I haven't paid attention to in years. It still holds all my ramblings from when I used to work for
Tracker Trucks
in Oceanside, California, and even a couple posts from when I first moved to San Francisco.
Do you have old blogs that you were once passionate about but have since abandoned in the web-ether? Hell, I used to be addicted to LiveJournal and even started a pretty effing popular community if I do say so myself. To me these blogs serve as a sort of digital time capsule - a true snapshot of Who I Was at any given moment in my past.
In honor of orphaned blogs everywhere, I dedicate this Late Night Inspiration to some of the things that inspired me throughout each "dynasty"...if you will, and still inspire me today.
I used to be really into Art Nouveau. Not that I stopped liking it... I just don't have my room plastered in repro posters of that style anymore. This mural lived on Haight Street here in San Francisco, across the street from
Amoeba Records
and a jaunt away from Golden Gate Park. I remember seeing it the very first time I visited the city, and I remember feeling blown away by the sheer artistic quality of such a huge piece of street art. The mural has since been covered with a seriously less interesting piece. I found this photo in the more recent of my two old LiveJournals.
Thennnnn there was my Linda Ronstadt phase...
Have you taken any time lately to admire Linda Ronstadt? Okay, maybe you don't fantasize about being her (as you can obviously see from the above photographic evidence I used to do). But f'reals. Her fashion in the late 60's and 70's was epic and her voice is majorly enviable. I used to know a girl whose father told her that Linda Ronstadt was the only woman he would ever consider leaving his wife for. Her music makes me want to get lost in Mexico or take up truck driving... two desires that upon a callous first judgment may sound un-enticing, but under the influence of Linda, very agreeable indeed.
Beauty in death
My very first piece of Midcentury Modern furniture. Can you believe how lucky I was to have found this on Craigslist for $50?! I think it only happened because the whole Midcentury craze hadn't quite kicked in at full force yet. That print is like a running theme throughout my art life.
Photos I took in Joshua Tree, California in 2007
Hairwolves - a tshirt design I purchased from
Threadless
that is no longer on the site
"We live together, we act on, and react to, one another; but always and in all circumstances we are by ourselves. The martyrs go hand in hand into the arena; they are crucified alone. Embraced, the lovers desperately try to fuse their insulated ecstasies into a single self-transcendence; in vain. By its very nature every embodied spirit is doomed to suffer and enjoy in solitude. Sensations, feelings, insights, fancies--all these are private and, ex- cept through symbols and at second hand, incommunicable. We can pool information about experiences, but never the experiences themselves. From family to nation, every human group is a society of island universes."
-ALDOUS HUXLEY